JIS Member Agencies
Organization

The following justice agencies are members of Justice Integration Services. JIS provides a combination of desktop support, network services, and application development and support for these member agencies.
Representative members from each of these agencies participate in the governing of JIS by serving on the JIS Policy Committee and/or the Operations Subcommittee.
JIS Policy Committee
Organization
The Policy Committee is the primary decision and policy-making
entity of JIS. This committee approves the design, development,
and operation of all JIS procedures and projects.
HONORABLE MIKE MONDELLI, Chair General Sessions Court Division VI **
HONORABLE THOMAS BROTHERS, Vice-Chair Sixth Circuit**
Mr. DARON HALL **
Sheriff
HONORABLE CHERYL BLACKBURN
Criminal Court Division III
MS. CHRISTI SCOTT
Clerk and Master
HONORABLE GLORIA DUMAS
General Sessions Court Division IV
HONORABLE HAMILTON GAYDEN
First Circuit Court
HONORABLE CAROL MCCOY
Chancery Court Part II
MR. STEVE ANDERSON **
Metro Police Chief
HONORABLE SOPHIA BROWN CRAWFORD
Juvenile Court Judge
MR. DAVID SMITH **
Juvenile Court Clerk
MR. VICTOR S. (TORRY) JOHNSON, III **
District Attorney General
MR. RICHARD ROOKER **
Circuit Court Clerk
MR. HOWARD GENTRY**
Criminal Court Clerk
MS. DAWN DEANER **
Public Defender
The Operations Subcommittee provides day-to-day assistance and guidance to the
Director of JIS regarding financial management and operations. Additionally, its members
review and recommend policies and procedures to the JIS Policy Committee. The JIS
Director also serves on the Operations Subcommittee. Policy Committee members who
also serve on the Operations Subcommittee are denoted with **.
JIS Organizational Chart
Organization
Administration
JIS administrative staff provide management and support for the day-to-day operation of the agency. These activities include personnel, payroll, finances, facilities management, contract management, asset management, and purchasing.
Applications Development & Support
The Justice Integration Services Application Development and Support Department is responsible for both the maintenance of existing applications, as well as the development of new applications for Justice and Public Safety agencies. JIS fully maintains, supports and modifies these applications without external assistance.
Customer Support Center
The JIS Customer Support Center is responsible for server and desktop software and hardware installation, maintenance, and support within the JIS community.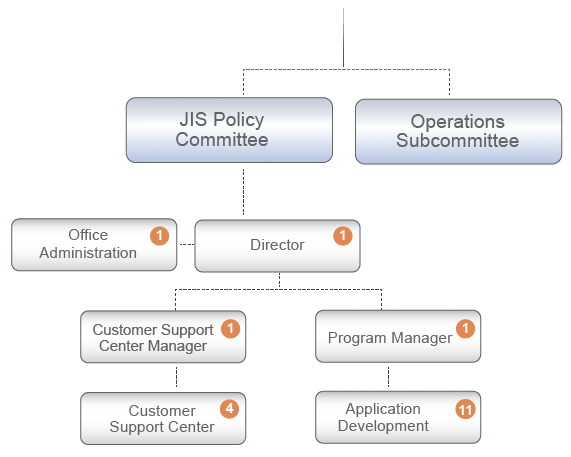 History of JIS
Organization
JIS was formed in 1992 by Metro Ordinance 092-415
Membership is made up of elected or appointed justice officials
The JIS Policy Committee is the primary policy decision maker. This committee is made up of all elected/appointed justice officials.
The Operations Subcommittee is responsible for inter agency operational decisions.
2013-2014 Presiding Officers: Chair – Judge Mike Mondelli, Vice-Chair – Torry Johnson, District Attorney
The JIS Director reports directly to the chair/vice-chair and is responsible for day-to-day operational decisions.